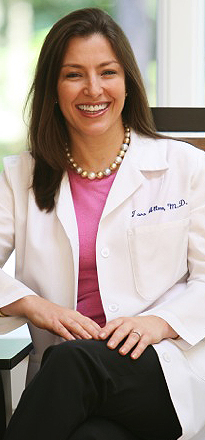 About Dr. Tara Allmen
Dr. Tara Allmen is one of America's leading experts in menopausal medicine. She is a Nationally Certified Menopause Practitioner and highly respected in the medical community. Inspired to reach millions of American women over the age of 40 with accurate scientific information that can help them, Dr. Allmen has appeared numerous times on local and national television, created an extensive library of video information available on this website, and the DVD  "Menopause in an Hour."
A graduate of New York's prestigious Stuyvesant High School, Dr. Allmen earned her bachelor's degree from Johns Hopkins University and her medical degree from the State University of New York at Stony Brook, she completed a residency in obstetrics and gynecology at the University of California, San Francisco.
Dr. Allmen started her professional career in a private obstetrical practice but ultimately decided to follow her passion for menopausal medicine. She joined Columbia Presbyterian's Center for Menopause, Hormonal Disorders and Women's Health in 1999, focusing her practice on perimenopause and menopause.
Dr. Allmen has educated thousands of medical professionals around the country on menopausal medicine. She has also been featured on television, both in the United States and internationally.
Dr Allmen is also the founder and director of The Allmen Foundation, a non-profit organization that primarily supports organizations working in the areas of women's health, childhood education and animal welfare. The North American Menopause Society, the leading non-profit organization dedicated to menopausal women's health, refers to Dr. Allmen as a "Visionary" contributor.
Having identified the frustrations of many women regarding getting objective, scientifically-based advice on menopause or access to professionals who specialize in menopausal medicine, Dr. Allmen created Menopause in an Hour.
Dr. Allmen lives in New York City with her husband, Lawrence M. Kimmel, their two children, and a small dog named Sadie.