Menopause in an Hour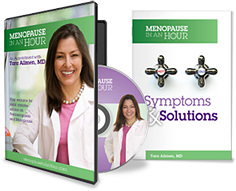 The DVD – Menopause in an Hour – comes with the informative Symptoms & Solutions Guidebook. Together, they provide medically sound, up-to-date information in a format that's easy to understand and use. It's like having a personal appointment with one of America's leading experts in menopausal medicine.If you are just starting to get symptoms… searching for a non-prescription alternative… or currently on a bioidentical or other hormone therapy, Dr. Allmen can provide helpful advice — or maybe you just need a comforting second opinion. So, order Menopause in an Hour now, and get the advice you need!

Menopause in an Hour Includes: The DVD
"An Appointment with Dr. Allmen"


Dr. Allmen explains menopause and perimenopause and answers critical questions about Hormone Therapy … Bioidentical Hormones … the risks of various treatments … which non-prescriptions alternatives work best and which you should avoid … and what simple lifestyle modifications can make a big difference in your life. Dr. Allmen will both inform and inspire you.
Success Stories, Captured on Video


Hear real women, who have experienced difficult challenges: intense symptoms, hysterectomies, surgical menopause, weight gain, libido and sleep issues, fibroids, risk for osteoporosis, and much more. And learn their secrets for living happier lives through menopause.The Symptoms & Solutions Guide


This Guide provides countless suggestions to address issues like hot flashes, night sweats, vaginal dryness, sexual function, weight gain, sleep disturbances, memory loss, sadness, anxiety, skin health, osteoporosis, headaches, hair changes, bladder problems, and more. Dr. Allmen identifies both non-prescription and prescription alternatives to consider. Dr. Allmen also asks thought-provoking questions that can help you identify possible causes of your symptoms and motivate you to stay healthy.

Get Help & Understanding From Your Family
What's up with You Know Who? Going through menopause is hard enough. Why go it alone? What's Up With You Know Who is an informative, entertaining DVD that will explain the menopause transition to your spouse, partner, older children, or whomever. This DVD encourages and cajoles them to support you through menopause — and suggests some healthy lifestyle improvements they can make too. They will hear from Dr. Allmen and from real women who have gone through the menopause transition. The DVD is FREE for a limited time, but the support and understanding you can get is invaluable.
Excerpts
Reviews
I highly recommend this excellent video. Dr. Allmen has managed to give enormous information, guidance and valuable advice to aid women in the navigation through menopause. It helps women know what to expect and make informed choices to maximize the quality of this time of life, and she does it in an hour!!
— Lila Nachtigall, MD
Professor of OB-GYN NYU School of Medicine;
Director of Women's Wellness, NYU School of Medicine;
Founding member and past President of the North American Menopause Society
Dr. Tara Allmen has assembled a clear, accessible, educational video on menopause, its symptoms, and the methods for handling them. She proposes an integrated holistic approach including a healthy lifestyle (diet and exercise), hormonal and non-hormonal therapies all focused toward a natural "change of life". While serious in its content, Dr. Allmen always maintains a lighthearted, humorous attitude wholly consistent with the real Dr. Tara which will be both disarming and reassuring to the viewer. All told, this video makes learning about menopause fun, even to this old-fashioned gynecology professor.
— James A. Simon, MD, CCD, NCMP, FACOG
Clinical Professor, George Washington University President and Medical Director, Women's Health & Research Consultants
Selected as one of "The Best Doctors in America" and "America's Top Obstetricians and Gynecologists
Dr. Allmen's presentation provides high-quality information organized in sections which are easily followed and understood. This information should ease unnecessary anxieties that women and their partners have about the changes of menopause and the options available to cope with these changes. I can easily see recommending the program to my patients and friends — I have already.
— Philip Sarrel, MD
Emeritus Professor of Obstetrics and Gynecology and Psychiatry; Yale University
Menopause In An Hour is a unique new tool that will help educate both women and men about this difficult and confusing time. Dr. Allmen has done an outstanding job of explaining this is in a clear concise way. In fact, a lot of medical professionals will also benefit from this educational video.
— Steven R. Goldstein, MD
Professor of Obstetrics and Gynecology; New York University School of Medicine
"This DVD is a wonderful resource for women in perimenopause and the menopausal transition. This DVD was produced as a guide for her patients, but I would recommend it to my patients as a concise summary of many of the issues faced by menopausal women as they maneuver through this time of life."
–Cynthia B. Evans, MD, FACOG, NCMP
Associate Professor-Clinical Department of OB-GYN, Ohio State University College of Medicine
The video was good, but the Symptoms & Solutions Guide was even better. Seeing all those prescription choices was a big help. — Debra
Menopause in an Hour was great. Finally, I understand Bioidentical Hormones and have a plan to address my symptoms! My husband and I also enjoyed What's Up With You Know Who. I think it's great to involve spouses in the menopause journey. He even gave me a hug after watching it! — Robin